Blue Cypress Lake, the largest lake in Indian River County, is a ten-square-mile naturalist and fisherman's paradise. As the origin of the St. John's River, the lake is abundant with wildlife, including bass, (delicious) catfish, alligators, ospreys, and of course, majestic cypress trees. The lake is a premiere location in Florida for largemouth bass fishing.
---
Lake Blue Cypress is one of the cleanest in the St. Johns District. The Indian River County's Park on the lake's west side provides two boat launches, a floating dock, parking, primitive camping, canoeing and hiking, and restrooms and showers.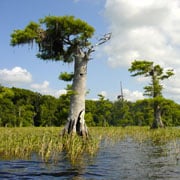 With a name like Blue Cypress Lake, you'd expect to find the reddish-brown and green trees painted blue. While they are not blue, these irregularly shaped cypress family members grow up to 130 feet tall and have enlarged trunks at the base and conical "knees."
You'll find plenty of these large, fish-eating members of the hawk and eagle family at this Lake. Osprey is frequently confused with the Bald Eagle due to its white head. A full-sized adult has a body length of 23 inches with a wingspan of over 5 feet.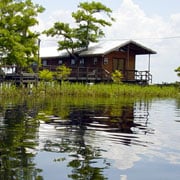 Located next to Middleton's on the west side of the lake, Blue Cypress Village is the only development constructed of mostly cabins, mobile homes, and a few stilt houses. These weekend getaways serve as a base camp for big bass seekers and those seeking to escape the coasts' congestion.
Top Blue Cypress Lake Fish Species